About Donald Kress, MD FACS
Donald W. Kress, MD, FACS  –  Board Certified Plastic Surgeon Frederick MD – Dr. Kress is the founder of Plastic Surgery One and the Kress Cosmetic Breast Center. The two clinics offered high-quality plastic surgery for patients who wanted to improve their look and their quality of life through a cosmetic procedure.
Dr. Kress was one of only a handful of the original clinical researchers for the new and innovative Cohesive Gel (gummy bear) breast implants. His work with these implants resulted in several TV appearances including MTV and Fox5.
Dr. Kress retired in April 2021, and after careful consideration of several local surgeons, Dr. Kress selected board certified plastic surgeon Dr. Henry Garazo of Plastic Surgery Services in Hagerstown to care for all past and future patients.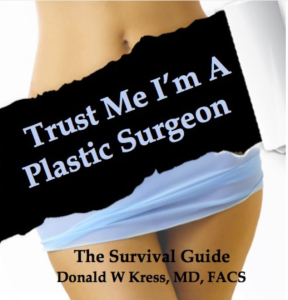 Expert in Treatment of Capsular Contracture
He was active in research using Ultrasound to treat and prevent capsular contracture, one of the most vexing problems of breast implants. He holds the position of Clinical Advisor to several companies involved with the breast industry. Dr. Kress feels that international participation is essential to keeping current on the latest developments in the field of Plastic Surgery. He was in Brazil when one of the most innovative tummy tuck procedures was first presented and in South Africa when a very successful "mini facelift" was first introduced.
To that end, he has participated in educational programs in Russia, Brazil, South Africa, Europe, and Canada. He was the only American Plastic Surgeon to be invited to the opening of a new clinic in Georgia (Near Russia) by two of his friends Dr's Sulamanidze.
Dr. Kress is working even harder to improve communication with his patients by incorporating an Ipad and visuals into his consultations. Not all surgeons are created equal, and therefore results are not the same wherever you choose to go. Dr. Kress is committed to achieving results that satisfy his patients for years to come.
Amazon #1 Best Selling Author of "Trust Me I'm A Plastic Surgeon"
Active in research and one of only a handful of the original clinical researchers for the new and innovative Cohesive Gel (gummy bear) breast implants.
Assistant Clinical Professor at the Milton S Hershey Medical Center.
In all, he has over 32 years of surgical experience.
"I have had an amazing experience with both Dr Kress and his staff. Dr Kress answered all of my questions and put my mind at ease before my Mommy Makeover surgery. My follow up appointments were scheduled quickly and at my convenience and everyone's bedside manor couldn't have been more perfect. I am so happy with my results and highly recommend Plastic Surgery One."


Contact us today for your free, no-obligation consultation.
15 Wormans Mill Court L-M, Frederick, MD 21701